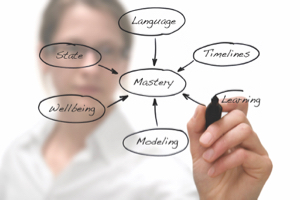 16 days of New and Advanced Material including:
Conversational NLP: Maximizing your influence with integrity using advanced language patterns
Timelines: heal the past, create the future, live in the present
Changing beliefs that have been holding you back
Re-imprinting key events to resolve past difficulties
Modeling those you admire: the structure of NLP
NLP Patterns for Health and Well-being
Fall 2018 - Spring 2019
Bring to conscious awareness what you believe you are capable of, what you believe you are worthy of, and what you believe is possible. Learn how to uncover and change limiting beliefs that have been unconsciously keeping you from getting or doing what you really want. Empower yourself with supporting beliefs for your health, family, love, work, and financial well-being.
Discover how you currently "code" time internally, how profoundly it affects your life, and how to make ecological changes to better support your outcomes. You will learn to elicit and change timelines for increased achievements, satisfaction, and balanced past/future orientation. Identify the events that resulted in your beliefs, both empowering and limiting. Timeline processes include Re-Imprinting, the Re-Decision Strategy and Creating a Compelling Future.
Employ the latest NLP techniques to empower your mind/body connection for generative change. Learn how to transform grief and loss into a sense of peace and deep connection. Discover the joy of "giving back the hook" in the powerful healing process of forgiveness. Get the latest developments in mind-body medicine, including neutralizing allergic responses and retraining your immune system for optimal health.
(Symptom, Cause, Outcome, Resource, and Effect). Learn systematic thinking strategies to organize information in ways that enable you to view the scale and scope of a presenting problem and find the missing resources.
Learn to foster change and broaden understanding through your choice of words. Experience the dramatic effect of creating conversational change through the words you speak. Patterns, including shifting the focus of a conversation from blame to positive intent, re-framing the meaning of an event or behavior, shifting a present problem into the past, tuning in to limiting presuppositions and many more. Learn to easily track over 65 indicators that are revealed when a person speaks!
If you did your training somewhere other than the with Lindagail, please e-mail Lindagail a list of your trainers and number of days in your training to be sure this Master Practitioner Training is a good match for you.
Participants in this Master Practitioner Training will need a foundation in the basics skills, perceptions, and presuppositions of NLP in order to be prepared for the content and processes in Master Practitioner Training. Please contact Lindagail if you have questions about this or would like help in any way to make this work for you.
If you were certified at Masters level by another training organization please contact Lindagail to be sure this training is a good match for you.
From Participants in This Training:
"This is the best training I've ever had!"
-Karen Gilbraith, Trainer
"This training is a must for anybody interested in enjoying life more fully. It is comparable to the finest gold. The attention to details, the exquisite care for the participants, and the mastery in creating a safe environment where people can learn are what made this experience unique. It is hard to find other trainers that can compare to Lindagail's competence and mastery."
-Maria Connolly, Licensed Therapist
"Imagine experiencing the most profoundly healing processes, month after month, which improve your outlook on life, and at the same time, learn how to help others, your family relationships, and your career. While growing, healing, and learning life skills you wish you could share with everyone you meet, there is a deep bond developed with fellow participants to last a lifetime. This is the most professional training I've ever attended. If only all trainers showed as much skill and caring, the world would be a better place, and we could double our ability to learn."
-Daneen Westerberg, Consultant
"This training is an opportunity to examine one's behavior and place in the world and make choices to learn and be the best person you want to be. I learned how to accentuate the positive and know what I want. I learned how to let go of limiting beliefs, to try out new ways in the safety and support of like-minded people. This was a completely supportive environment and a leader who practices what she teaches."
-Kathleen MacMichael, Restaurateur
"This training is profound. It has changed my life many times over. It showed me ways to grow-ways I never dreamed possible. I am so glad to have taken NLP Master Practitioner Training, and so glad Lindagail was my teacher."
-Greg Doss, D.O., Lic. Acupuncturist
"This fabulous training is like getting the keys to the kingdom. I thought about the question "What has changed for you since learning NLP?" The answer is "Everything." I have a whole new skill set. It changed the way I see and experience the world, It gives me tools to coach myself and others. All this in a nurturing, loving learning environment."
~ Tanya Thompson, Business Coach, Wellspring Direction
Taught by Lindagail Campbell

Enrollment: Space for 14.
Tuition: $2,995. Save $500 when you register and pay in full by midnight, 90 days before the training begins. $2,495 total.
Or Make Monthly Payments: $395 month for 8 months, total $3,160
Cancellation and Refund Policy: Full refund up to 30 day before the event. 50% refund up to two weeks before the event. After two weeks, no refunds, non-transferable to another person or another event. If Lindagail offers NLP Master Practitioner training in the future, you can apply 100% of tuition paid to that future training.
3 Ways to Register:
Click below to register securely online with PayPal
NLP Master Practitioner Training Tuition: $2,995. Save $500 when you register and pay in full 90 days in advance. $2,495 total